Mulch Pickup and Delivery in Greenville, NC
Always affordable and always on time! Contact New River Mulch to order mulch, soil, landscape rocks, and aggregates for pickup or delivery near you in Greenville, NC and surrounding locations.
Our professional team offers timely mulch delivery as well as convenient mulch pickup. We make mulching your yard a smooth process from start to finish. Our large inventory includes natural and color enhanced mulch, along with other landscape aggregates, soils, and stones. Place your order today!
Pickup Services
Visit us near Greenville to pick up mulch and other decorative landscaping products. We sell all our materials in bulk and always ensure that you get the amount you pay for. Use our mulch calculator to determine how many cubic yards you need for your home's landscaping.
If you need a smaller amount of material, or don't own a truck or a trailer, New River Mulch is now carrying bagged materials for your convenience. We stock bagged mulch in several colors as well as a full line of soils and compost from Daddy Pete's. New River mulch can also custom bag any of our decorative aggregates for your convenience.
How Do I Pick Up Mulch?
New River Mulch takes the hassle out of mulch pickup! Simply visit our local store during business hours (Monday–Friday from 8 AM–5 PM and Saturday from 8 AM–3 PM) and place your order in person. Larger orders may need to be placed over the phone ahead of time, but most orders can be arranged and loaded the very day you visit our shop.
After placing the order, we'll direct you to the proper loading zone where our experienced staff will begin filling up your vehicle carefully with the desired amount. After loading is complete, you'll pay and be on your way!
How Much Mulch Can My Pickup Carry?
Now that you are familiar with our pickup process, just how much mulch can you bring back with you? Please refer to our sizing chart for the specifics on how much mulch each pickup truck can carry. While we cannot cover the carrying capacity for all trucks or trailers here, feel free to contact our expert team for an exact estimate on the amount of mulch your specific vehicle can transport.
Your safety and satisfaction are our top priorities. In the event that we cannot load your order safely into your truck, we maintain the right to stop all loading until another truck or trailer can be acquired.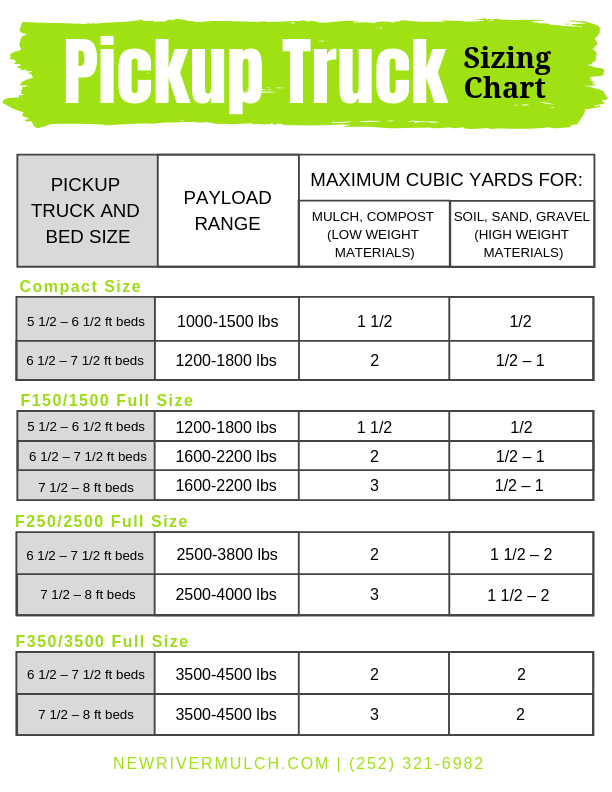 Is My Vehicle Suitable for Bulk Loading?
We ask that you bring a trailer or pickup truck to transport your mulch order and other materials. Other vehicles need to have an open top that can be easily loaded with our skid steer loader. This excludes the use of SUVs, sedans, or minivans. Any truck shells or lids should be removed before pickup so that we may load your vehicle quickly.
Should your truck, trailer, or vehicle not meet our safety requirements, we may postpone pickup until another vehicle can be brought in. This includes trucks without a tailgate, rusted and weakened trailer beds, and trailers with slotted wire mesh floors.
What Else Do I Need to Be Aware of?
Inspect your truck or trailer for any large gaps that may allow mulch, rocks, or other debris to fall from your vehicle when driving home. Commonly these are found along the edges of the trailer bed or where the truck bed meets the tailgate.
Because of the large weight of bulk orders, especially for soil, sand, gravel, and other heavier materials, correct tire pressure should also be taken into account. We have an air tire pumping station if your tires need more air for a heavy order.
Delivery Services
Make the process even easier with our mulch delivery services! We deliver mulch and other landscaping materials in our inventory throughout the Greenville area and surrounding communities. Get in touch with us to schedule your delivery.
Bulk material is delivered utilizing our fleet of dump trucks. We take pride in being on time and our professional drivers will always greet you with a smile. We also offer delivery of any of our palletized products using one of our skid steer loaders. We operate a specialized loader for this purpose that is very yard friendly for your convenience. Our goal on every delivery is customer satisfaction, so we always do our very best to get material to your desired location with the least amount of ground disturbance as possible.
Next Day Services
Receive your bulk mulch order within 24 hours after placing it! Our mulch delivery services are always prompt and professional, arriving on time and ready to serve you. We are happy to refer you to local mulch installers if you would like a qualified team to install mulch in your yard for you. We do charge a delivery fee, but at reasonable and competitive prices. Call or contact us today to place your order, schedule a delivery date, and learn more about our mulch delivery pricing!
What Do I Need to Be Ready for My Delivery?
Most of our deliveries are placed in the customer's driveway or in a surrounding parking lot for commercial properties. You can request a mulch delivery to be placed in your yard or off a paved surface. However, should the ground prove to be too wet, muddy, or soft to safely drive our delivery truck off the site, we will ask you to choose a different delivery spot.
If you cannot be present at the delivery location when we arrive, we ask that you provide us with specific instructions for where to leave your order. For quicker clean up and to avoid color enhanced mulch from staining concrete surfaces, we recommend placing a tarp on the drop site before the delivery takes place.
Please note that New River Mulch is not responsible for damage to landscaping, sidewalks, driveways, etc. However, our experienced team is careful to transport and deliver mulch and our other products as safely as possible.
How Can I Pick Up Materials?
If you would rather pick up your mulch, soil, and other landscaping materials, feel free to stop by our shop near Greenville, NC, even without an appointment! We ask that you bring a truck or open trailer (no enclosed trailers) for loading materials, as we use a skid steer loader for all orders. Please also remove camper shells from your truck before coming for pickup.
To ensure your safety and the safety of others on the road, we also ask that you examine your truck or trailer to make sure that it follows regulations for carrying loose materials. If you're unsure about whether or not your vehicle meets safety regulations, our staff is happy to answer any questions. Call our office today for more information!